'Who Says endoscope disinfection is complicated' - We simplify it for you.
Our Mission is to make complete disinfection of endoscopes available in every endoscopy centre at lower cost
Introducing India's first fully automatic endoscope disinfection machine 'Endosauber' with International standard, reliable, affordable and sturdy. The only machine with Data log printer compatible with endoscopes of all makes. Digital Display with finger touch buttons.
What is the need to disinfect your endoscope before use by Endosauber Fully Automatic?
It has been noted that the exogenous transmission of microbial flora from endoscopes or accessories account for most of the GI Endoscopy related infections.
The incidence of bacteraemia varies from 2% to 50% in various GI endoscopy procedures. The incidence varying from a diagnostic upper GI endoscopy to interventional procedures like ERCP. In fact, the suction channel and outer sheath of Gastroscope,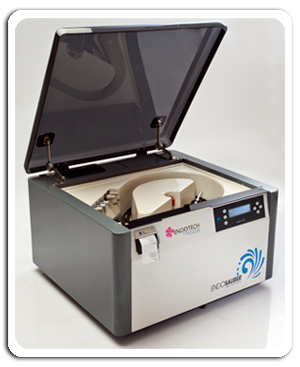 Colonosope and ERCP scope is shown to harbour various Gm +ve or Gm-ve bacteria. In a worldwide survey, around 24% of all GI endoscopes were shown to harbour bacteria with colony counts above 10,000. 
It was from the late 1990's that most major GI Endoscopy societies of Europe, Britain, USA, Australia and Asia, set up guidelines to make endoscope disinfection a routine practice. 
The main points stressed on preventing GI Endoscopy related infections were 
* Proper mechanical cleaning, 
* Effective chemical disinfection, 
* Proper drying and storage 
* Most importantly Compliance of all GI Endoscopy staff to follow the process of disinfection before each use.
What is special about the Endotech Disinfector machine 'Endosauber Fully Automatic'?
Endosauber Fully Automatic is totally Indigenous, fully automatic, user Friendly, Cost Effective, total Disinfection in short span of time; Scopes are fully immersible assuring you complete disinfection.
+ Advantages

Digital display with finger touch buttons.

Thermal Printer for data storage of scope make & type with disinfecting time.

International standard at affordable price

Table top model, Occupies less space and is easily movable to other room

Economical - Designed in such a way that sterility is achieved with less quantity of Disinfectant

Compatible with any disinfectant

Easy method of filling and draining of disinfectant

Direct tap connection for water inlet

Compatible with any flexible scopes

User Friendly, Easy Maintenance

Timing of the cycle can be set as per the requirement

Prompt service, off the counter availability of spares
+ Technical Specification

Machine Weight - 40 Kg

Machine Dimension - W 27" x D 27" x H 18"

Cycle Setting -

Auto 1 - Disinfectant & Water cycle with Drying Cycle – total time 25mins.
Auto 2 – Soap Cycle, Water Cycle, Disinfectant Cycle & Water Cycle – total time 30 mins.
Manual – Any Cycle can be set manually as per required.

Thermal Printer - After completion of each cycle report is generated with Date, Time, Scope Make & Type

Pump - Power consumption 7 w. Noiseless

Pressure Control - Pressure Control Circuit and Pressure Sensors regulate the pressure within safe limit of 1.45 Bar / channel (21 psi).

Level Sensor - Mounted to maintain the level of fluid.

Disinfectant Tank - Capacity - 10 lits. full immersion of scope

Compatible With Any Flexible Endoscopes Of Any Make.

Electrical Power Supply - Operates on 230 VAC. fuse protection 3 Amp. with spare fuse for replacement

Housing Finish - Powder Coated Rust proof Body